<![if !vml]><![endif]>

The Cutting Edge

Interesting Tidbits for the Sharp Minded
120 Clarks Mills Rd. Dayton Maine 04005

1-888-310-EDGE (3343) www.capeforge.com

Quick Links

Contact us..

Video Link

I will guide you through stropping your small v-tools and gouges.

We are still working on updating with more video links at the web-site for edge maintenance. We

will keep you posted.

Featured Link

Celebrating the amazing artists of Haiti

Thank You

Thanks to everyone who subscribes and remember you are already

Registered for the next give away.

January Winner

Our January knife winner is

Vincent Douglas

Next give Away is For

Father's Day

Someone's favorite holiday…

---

What's your comment?

Would you like to share information about our tools with other wood carvers?
We are looking to hear from you and let others see what you've been thinking or using the tools for.

---

Carving Blades

We offer any of our carving knives without a handle, completely sharpened and ready to go for your own custom handle.

$26.00 each

---

Don't forget to add us to your address book or they might think we are Spam

Please note that your information will never be shared with anyone-ever!

And you are welcome to unsubscribe at any time.

If you do not wish to receive any future emails from us – you just need to send your name and email address to

UNSUBSCRIBE and I will remove your name.

Thanks for all your support and let us know if we can be of any service to you... Until then Happy Carving

The Father and Daughter Team of

Mike and Karyn de Punte'
February 2010
<![if !vml]>

<![endif]>What's New.....
Here we are entering our 21st year and it looks like we will be moving our physical location again. My husband has accepted a job in Connecticut and we will be moving my shop in the early summer. We will certainly keep you posted as things progress and as with every move…Cape Cod, Vermont, Colorado & Maine I say I hope this is the last. (you never know when this could show up in Cape Forge Trivia)
Interesting Tidbit..
The Cutting Edge will now be available on line...I have been e-mailing it directly to you for years, but with all the Spam filters and new programs I found that you were not receiving it or it would come completely jumbled. I will send along an e-mail with a link when the newest version is available and I will also announce it on Face Book. Let us know how we can make it better... Keep in mind my real job is making the knives..
---
<![if !vml]>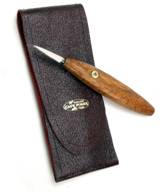 <![endif]>It is your Last chance
To own our 20th Anniversary
Commemorative Knife
We introduced the knives last March and when we run out of the leather we will stop production on these knives. I wanted to thank everyone for their support in Celebrating 20 years. We have enjoyed offering this commemorative knife and who knows what we will do for our 25th
..A new blade style and handle design in a beautiful leather case embossed with our 20 year logo
Single Blade 1 ½" $48.00 Double Set 1 ¾ & 1 ¼" blades $95.00<![if !vml]>

<![endif]>
It is also your last chance to enter
Cape Forge Trivia and win a Commemorative Knife
#1. Who comprises Cape Forge?
A. A Father and Son Team
B. A Father and Daughter Team
C. One old Guy
#2 What was the price of our knives when they were first introduced in the early 90's?
A. $22.00
B. $29.00
C. $32.00
#3 The logo on our knives is?
A. P8
B. de P
C. Random gibberish
E-mail Karyn with your answers and if you have 2 correct you will be eligible to win.. Good Luck….remember please only enter once… The winner and answers will be announced on the web-site & Face Book at the end of February.
---
Cape Forge is now on FACE BOOK
I am working on keeping things current on Face book.
So look us up and Become a fan.
It will be a great way to stay current on our move. I will also let everyone know via face book when the latest issue of "The Cutting Edge" is available at the web-site.
---
Upcoming show...
40th Annual Ward World Championship
April 23, 24, & 25th Ocean City Maryland
$2.00 off admission Coupon Available.
Send me an e-mail and I'll send you the coupon as a pdf attachment.
You can always refer to the web-site for updated information. We love to see everyone and we know you have fun playing with the tools.
---
Customer Comments
The best part of our job knowing the tools are being enjoyed and used. We love to hear from everyone.
Dear Karyn,

Your anniversary knife arrived, in great shape, yesterday.

It's fabulous and so natural and comfortable in my hand that it feels like it's a part of me.

Congratulations to you and your father on this joyous occasion of being successful, both with your business and your chosen endeavors together.

Wishing both of you continued good health, prosperity, and happiness in all you dream and do,

Jim
If you are not convinced and would like to view more testimonials visit our web-site. We really do love to hear from you. Good and Bad. We have been known to screw up from time to time and we rely on you to keep us at our best.
---