<![if !vml]><![endif]>

The Cutting Edge

Interesting Tidbits for the Sharp Minded
NEW ADDRESS

31 Berkshire Way Simsbury, Ct 06070

1-888-310-EDGE (3343) www.capeforge.com

Tell a friend…or

Become a

Quick Links

Featured Link

I recently sent some tools to Steffen Kaisier; Master Toy Maker in Germany. I though you might enjoy his work....I know I did.

---

Anything you would like to share with beginners?

The next issue is going to be geared toward the beginner with sources and ideas. There seems to be quite an interest in the hobby lately and I think it is all our jobs to help get them started. So let me know if you have any ideas you would like to share. I am sure there will be something for everyone..

January

Knife Winner

Paul Bierdz

Our next knife give-away is in June to celebrate Fathers Day...one of our favorite holidays...

Thanks to everyone who subscribes and remember you are already Registered for the next give away.

---

Sharpening Service

We always sharpen our tools for FREE and your other tools for a small fee..

---

Woodcarving Illustrated Forum

Our friends at Woodcarving Illustrated have a great website that's full of lots of useful information for woodcarvers. The forum is a great place to find tips and techniques or get helpful advice from fellow woodcarvers around the world. They have a gallery with hundreds of photos where you can find inspiration or post a photo of your own work. Take a few minutes to browse around the site where you'll find dozens of how-to videos and online articles including free patterns you can download. Sign up for a free trial subscription or find a local carving club or show. www.WoodcarvingIllustrated.com

---

Valentines Day carving Idea...

Maybe it is time to carve entwined hearts for someone special....

Don't forget to add us to your address book or they might think we are Spam

Please note that your information will never be shared with anyone-ever!

And you are welcome to unsubscribe at any time.

If you do not wish to receive any future emails from us – you just need to send your name and email address to

UNSUBSCRIBE and I will remove your name.

---
February 2011
What's New.....our address to start
We have moved again.... For those of you that have followed us for the past 22 years we started on Cape Cod (hence the name) and where my dad (Mike) has remained the entire time. We then moved to Vermont (had three kids) while my husband worked on his doctorate, moved to Colorado where we had grandparents and my husband did a post doctorate. Then to Maine where where my husband worked at the University of New England as a professor of biochemistry and now here we are in Connecticut while my husband is working at a new pharmacy school associated with St Joseph's College. The beauty of all this moving is my shops seem to get just a bit better each time. First there was dirt floors and then a rickety old garage with dirt floors and barely any walls, followed by several that were sectioned off partial garage bays, each one adding a bit more insulation and now I have a separate shed. Insulated and all mine. My husband is thrilled for my dust does not get on his bikes and although I now have to go through the snow to get to work I am settling right in. Here are a couple photos so you can see where your knives are being created. (probably not what you envisioned).
.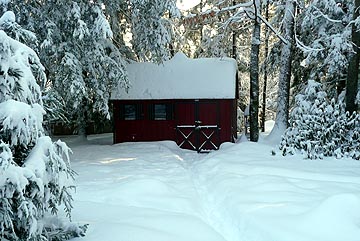 .
As for the chisels, I'll have to get some photos of dad's shop in here one day. He has a great smithy where the forge is and the entire basement that is jammed with toys (or should I say machines). We always joke that we can not put on a single pound or we will not be able to maneuver down there. You now how it is when you collect toys.. Very large ones at that.
on another note....
Dad Turned "70"
Back in November Dad turned 70 and now he thinks he can use the old card. Well not too worry we still work well together and he looks pretty young to me. In fact he had cataract surgery and now seems to have bionic vision and I on the other hand have upped my magnification. I vote he can sharpen the micro tools now! Those are a bear to see for anyone...young or old. And for a piece of trivia, do you know what I give my dad every year for his birthday? I am sure you would never guess that I oil my machinery for his birthday. I would never maintain my tools properly if it were not for him.
---
Now a Little SHOP TALK
Angelique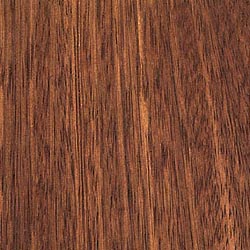 We have been using Angelique for all our handles for the past 8 years or so. We started out using Black Walnut and found that it was getting increasing difficult to get what we needed at a decent price. We actually would drive to Virginia and get the wood from Dutch country. The Amish would throw the wood out of the batches that came in for horse shavings for it was toxic to the animals. They would sell it for a decent price per board foot and we would rent a truck and load it up. This would get us through a couple years at a time, but everything must come to an end. We needed to find a replacement. My dad's local lumber mill stocked Angelique for use on making the decking on flat bed trucks and suggested we give it a try. We loved it! Not only does it work beautifully, it is always straight, and very similar to Walnut in looks. For the past 8 years we have been using it exclusively.
Here is what little information we have found on the wood
Comes from Suriname. Suriname used to be known as Dutch Guiana located between Guiana and French Guiana on the northern coast of South America. Imported by a native of New England specifically for boat yards and small specialty operations. It is a very hard wood and valuable for boat planking because it's said to be so hard that "marine worms cannot penetrate more than an inch, which is farther than a nail can be driven". This wood is certified by the F.S.C. [Forest Stewardship Council] as a sustainable harvested wood.
---
Custom Knife
#9 double edge Feather tool

Here is a fun knife I created at the request of a gentleman who was looking to help clean out under feathers. The blade is a #9 1 3/4" length, flat on the bottom and sharpened on both edges in a Tear Drop handle. $52.00 Standard handle also available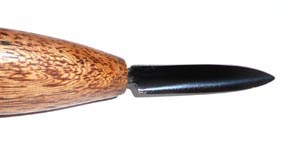 We create tools all the time that are just a little or a lot different and I always forget to photograph them before sending them out. So my new years resolution is to photograph them so I can share with you.. I do have a few stored up that I'll try to post on Facebook in the coming months. So keep your eye out and maybe you have an idea that you would like to see come to life. It might be fun to show you how your specifications turn into knives.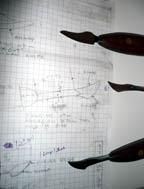 If you haven't already, become a fan and you won't miss a thing...Facebook Fan....
---
Upcoming Shows...
April 29,30 & May 1st 2011
Annual Ward World Championship Wildfowl Carving Competition and Art Festival

Ocean City, MD
You can always refer to the web-site for updated information. We love to see everyone and we know you have fun playing with the tools.
---
Customer Comments
The best part of our job is knowing the tools are being enjoyed and used. We love to hear from everyone.
I just wanted to let you know that my knives arrived today and as soon as I saw the blades I knew I'd finally found the lost Dutchman gold mine. I couldn't wait to get home and try them out on a carving I'm currently doing and they are phenomenal. I've tried Swiss knives, others and they aren't even in the same league as Cape Forge. I'll be back for more soon. Thanks again, Chea
If you are not convinced and would like to view more testimonials visit our web-site. We really do love to hear from you. Good and Bad. We have been known to screw up from time to time and we rely on you to keep us at our best.
Thanks for all your support and let us know if we can be of any service to you... Until then Happy Carving
The Father and Daughter Team of
Mike and Karyn de Punte'
Cape Forge

Mail to:
Karyn
Mike