The Cutting Edge

Interesting Tidbits for the Sharp Minded
120 Clarks Mills Rd. Dayton Maine 04005

1-888-310-EDGE (3343) www.capeforge.com

Quick Links

Featured Link

Carving Walking Sticks & Canes

The northwest Carvers have a great article on Carving walking sticks and canes..

What a great summertime project

Thanks to everyone who subscribes and remember you are already Registered for the next give away.

Our Commemorative knife winner was

Laszlo Pastor

of PA

Our next give away will celebrate

Father's Day

Someone's favorite holiday…

---

Sharpening Service

We always sharpen our tools for FREE and your other tools for a small fee..

---

is a great gift for Fathers day...

take it on vacation....

---

Don't forget to add us to your address book or they might think we are Spam

Please note that your information will never be shared with anyone-ever!

And you are welcome to unsubscribe at any time.

If you do not wish to receive any future emails from us – you just need to send your name and email address to

UNSUBSCRIBE and I will remove your name.
June 2010
What's New.....
We haven't moved yet... I am guessing sometime in late summer.. I will be sure to keep you posted at the web-site and on Face book.
I hope we pick you....We will be announcing the Fathers day knife winner at the web-site & Face book on the 19th and remember you are already entered if you are a fan or a subscriber. One winner will be randomly picked.
Cape Forge Trivia Answers
Okay this was fun... I will have to do this again.. I enjoyed hearing from folks who have been with us for the full 20 years as well as the newer customers. All answers were B.. I'll explain below
#1. Who comprises Cape Forge?
A. A Father and Son Team
B. A Father and Daughter Team This was an easy one.. everyone got this right..
C. One old Guy
#2 What was the price of our knives when they were first introduced in the early 90's?
A. $22.00 - this was the most popular answer
B. $29.00 An interesting fact: we have only raised our prices 20% in 20 years...whereas the raw materials we use have gone up as much as 400%.
C. $32.00
#3 The logo on our knives is?
A. P8 This was the most common answer.. I had customers go look at their knives and come back with the infamous P8
B. de P This is the real answer for our last name is de Punte' - I guess we need to rethink this one..
C. Random gibberish
Thanks to everyone who entered and you never know what I might ask next...
---
Cape Forge is on FACE BOOK
I am working on keeping things current on Face book.
So look us up and Become a fan.
It will be a great way to stay current on our move. I will also let everyone know via face book when the latest issue of "The Cutting Edge" is available at the web-site. I know some of you have trouble receiving the issues due to Spam filters and I am hoping this helps.. it also doesn't effect your chances of winning our give-a ways. All names go in the hat and my daughter randomly picks one winner.
---
Upcoming Shows...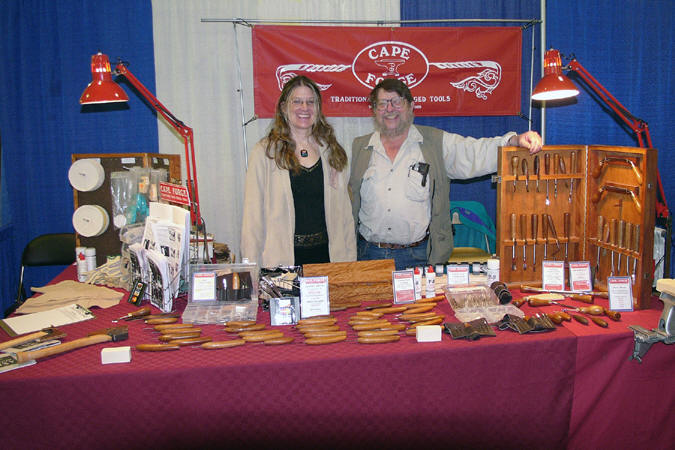 July 10, 2010
Annual Carvers Day at Old Mystic Village

Mystic, CT

presented by the CT Woodcarvers

July 10, 2010

Unfortunately, we can't be two places at once ...look for us next year at the

Maine Coast Carving and Art Competition

Belfast, ME

---
---
Customer Comments
The best part of our job knowing the tools are being enjoyed and used. We love to hear from everyone.
A customer recently sent me a link to a link on the Woodcarving Illustrated forum.. so for this issues comments I am sharing the link with you.. Thanks so much for all your support!
Wood Carving Illustrated Forum
If you are not convinced and would like to view more testimonials visit our web-site. We really do love to hear from you. Good and Bad.
---
What's your comment?
Would you like to share information about our tools with other wood carvers?
We are looking to hear from you and let others see what you've been thinking or using the tools for.
---
Thanks for all your support and let us know if we can be of any service to you... Until then Happy Carving
The Father and Daughter Team of
Mike and Karyn de Punte'
Cape Forge

Mail to:
Karyn
Mike